John's Trailer Park was regarded as the most blighted property in Morgan Hill. Slum-like conditions throughout the 2.9-acre site produced serious health and law-enforcement problems. A non-profit affordable housing developer, South County Housing, and the Morgan Hill Redevelopment Agency hired Weston Miles Architects to create a new, safe and attractive affordable housing community for very low-income residents. Fourteen single-wide, dilapidated trailers, two houses and two duplexes were replaced by 34 new units housed in buildings that reflect the nearby single-family homes. The project's two existing fourplexes, landscaping, and streetscape were redesigned to blend in with the new units. In all, Villa Ciolino provides 42 one-, two- and three-bedroom units for the existing and new residents.
Two community rooms, a tot lot, a basketball hoop and play area are now available to the Villa Ciolino residents. There are areas for barbeques, picnics and private gardens along the banks of the creek that runs through the site. The Villa Ciolino creek area is at the beginning of the south portion of the Creekside Trail, the major north/south bike and walking trails through town.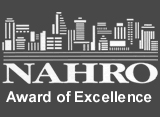 Winner of the NAHRO Award of Excellence as well as NAHRO
Regional Award of the Merit and was named Project of the
Month by The California Redevelopment Association. The
League of California Cities also awarded it the 2002 Helen
Putnam Award for Outstanding Capital Design.
Save