At The Friendly Inn, many parts of the structure were reused, including the entire existing shell. Hidden below years of disrepair, small windows and low ceilings was a building that had elegant possibilities. 
Under layers of paint, the building had original tongue and groove wood ceilings in the main room and hidden away behind low ceilings in the rest of the building. The paint was sandblasted away and the dropped ceilings removed to expose the natural splendor of the wood beneath. By revealing the beauty in what already existed, WMA was able to bypass installing new ceiling systems, conserving environmental and financial resources.
With the desire to update the insulation but not obscure the newly revealed ceiling, formaldehyde-free insulation was placed on top of the existing roofing plywood and a new metal roof was constructed above. This effectively created a "cool roof " with a very high R value. The exterior walls were stripped and reinsulated and new operable, low-E windows and glazed doors were installed in openings that had been strategically widened. New energy efficient mechanical and electrical systems with Energy Management controls were installed to allow for control of the systems. Although not installed during this phase of the renovation, the design is set up for future solar panels.
New sky lights are used to help illuminate the core of the building and wide hallways provide accessibility and carry light throughout. The restrooms are designed for water efficiency with waterless urinals in the men's room and low flow faucets and toilets. The kitchen has low flow faucets, Energy Star appliances, new FSC cabinetry, and sustainable cork flooring that is soft on both the feet and the environment.
All interior materials are low VOC and many include high recycled content. The carpet tiles not only include recycled content but can be recycled at the end of their lifespan by sending them back to the manufacturer. Energy efficient lighting fixtures brighten the spaces after the sun goes down, and are controlled with occupancy sensors and automated timers to insure they are not inadvertently left on all night.
The most sustainable part of the project is the re-use of the building itself. Reuse of existing structure and finishes reduces the amount of construction waste that ends up in landfills and lessens the demand on new raw material resources for building. The owner's commitment to reusing the building and Weston Miles Architects' resourceful design brought a derelict property back to life and insured that it will be part of the fabric of Morgan Hill for decades to come.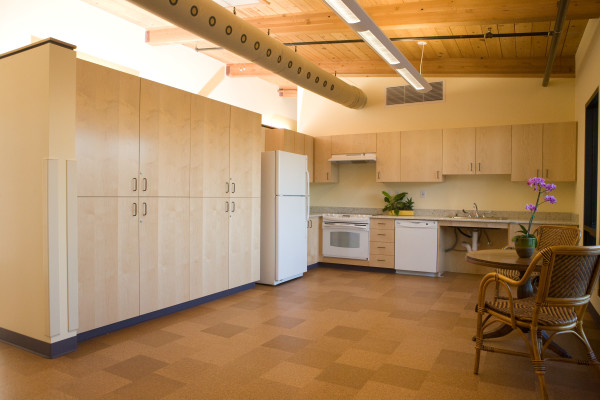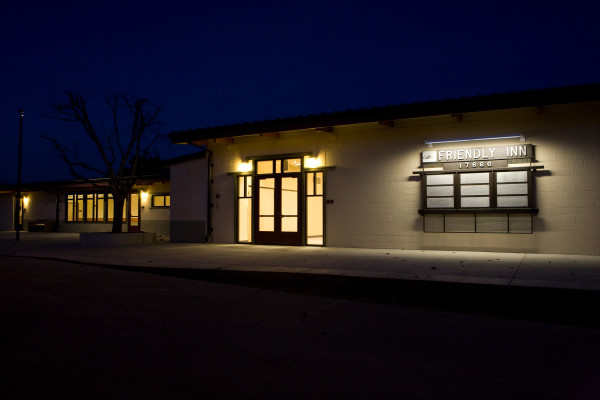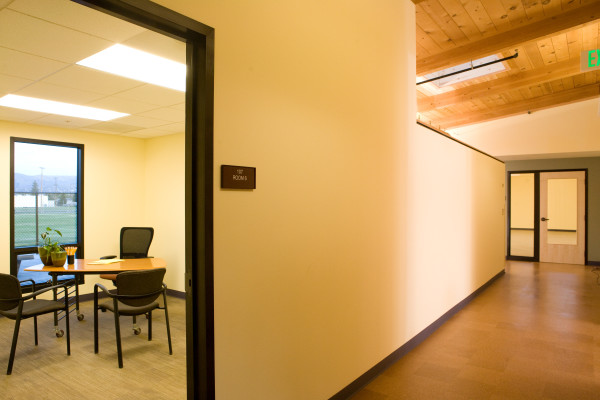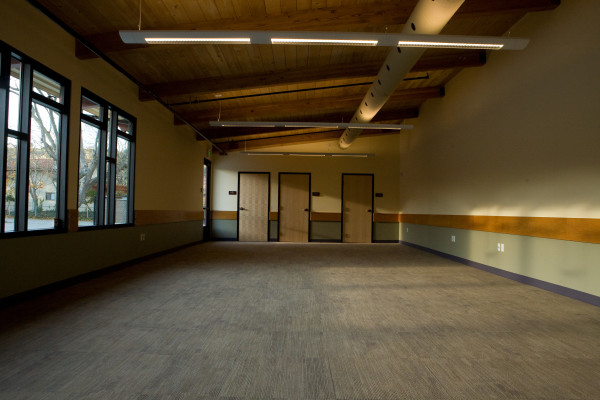 Save
Save
Save