Weston Miles Architects designed the mixed-use Cornerstone Building in 1994 to house commercial space downstairs as well as their second office upstairs. Across from another WMA design: the Skeels building, the 5,600 square foot building is a focal point at a very pedestrian-friendly area in downtown Morgan Hill at the corner of Monterey St and E Third St. The ground floor houses a salon and bagel shop that have occupied that space since the building's opening. Although WMA's office has moved since 2005, the upstairs office space has now been easily transitioned into an exercise studio.
This new project was completed by Weston Construction in only 9 months due to steel stud and metal frame construction and continuous work through the winter to save time and cost. As the owner, architect, and contractor, this project gave WMA the opportunity to fully comprehend the budget and schedule from all sides and learn how small issues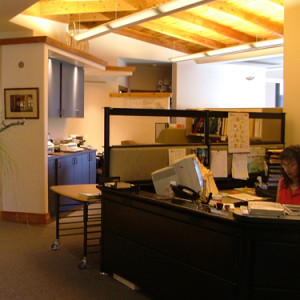 can have significant impacts.
Even before LEED became the standard of rating for green architecture, WMA has always made sustainability a priority even in the initial stages of design. This building is proof of their commitment to low-maintenance and functional spaces in the minimal maintenance it has undergone in the past 17 years. High efficiency lighting and operable windows in an open-plan office setting offers lots of natural light and ventilation: two key elements to a passive building that so many designers ignore these days due to the easy access of air conditioning.
It is now an essential piece of the Downtown Morgan Hill fabric that is much admired by the residents and visitors as they stroll down the main street and stop at the corner to rest in the abundant sidewalk-seating. It has helped to shape the rest of downtown and is often featured on Morgan Hill brochures as the face of downtown.